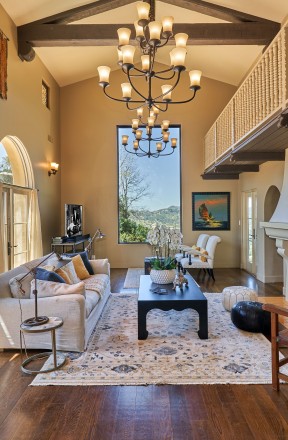 THE ALDOUS HUXLEY HOUSE
4 Beds
•

4.5 Baths

•

4,066 SF

•

29,344 SF Lot

•

UNPARALLELED VIEWS: THE HOLLYWOOD SIGN, LAKE HOLLYWOOD, DOWNTOWN, GRIFFITH OBSERVATORY, & THE PACIFIC OCEAN

•

$4,300,000

SOLD

6233 Mulholland Hwy, Los Angeles, CA 90068

SUMMARY: This dazzling 4BR/4.5BA 4,066 sq.ft. view property was owned by Aldous Huxley, author of Brave New World, and his wife Laura, a noted musician. The home's current owner has overseen an extensive restoration/renovation, resulting in a trophy property of over 29,000 sq.ft. with features like a sparkling pool, flat yard, terraced gardens, massive outdoor patio, a private amphitheater, classic Mediterranean indoor-outdoor flow, and views from every room including Lake Hollywood, the Hollywood sign, the ocean, and DTLA.
DETAILS: The home's living room has a lofty, 2-story pitched and beamed ceiling atop banks of windows and doors opening to outdoor patios. A second-level balcony is perched above the living area (a high-end Mediterranean staple). Richly-toned hardwood floors cover most of the house. The centerpieces of this room are a fireplace with a large mantle and a picture window that captures sun, sky, mountains, and private grounds. Adjacent to the living room is the formal dining room, also with doors to an outdoor covered "family room."
A gourmet-style kitchen (adjacent to dining) features custom cabinets, CaesarStone-topped center island (with seating), high-end stainless-steel appliances, two sinks, and windows and doors capturing views. The covered, outdoor "family room" is accessible from the living and dining areas and is surrounded by arches. Its beamed ceilings and wrought-iron light fixtures make this area ideal for end-of-day wine and cheese or—with the addition of a flat screen TV—an amazing space to enjoy weekend sports.
A powder room sits in the home's foyer.
A sunny master suite has three walls of windows, a private balcony, and views of the Pacific Ocean, Lake Hollywood, and the Hollywood sign. The suite's bathroom has mission tile on the floor, a floating dual sink vanity, a tub/shower combination, and a balcony.
Three other guest rooms are also en suite.
The property offers 29,344 sq.ft. of gated, secured land. The land is comprised of two side-by-side lots (one address). The great outdoors looms large in making The Aldous Huxley House a once-in-a-lifetime opportunity. Features include: Sparkling pool with dancing waters (and views of the Griffith Park Observatory and the DTLA skyline), one of the largest (over 2,000 sq.ft.) outdoor entertaining patios (with a dead-on view of the Hollywood sign) in the Hills, a large front yard covered with decomposed granite ("DG") and olive trees, and a number of outdoor patios. The hillside below the house is terraced and planted with fruit-bearing trees and wondrous displays of succulents and California vegetation.
If there is one feature at Huxley House that is most rare, it is its outdoor amphitheater. Curving, multi-level seating tiers surround a central performance area, like a modern open-air stadium. Gladiators, musicians, performance artists, and lecturers would all find this extraordinary structure useful. And the obvious use: Nighttime movie screenings. The not-so obvious: Sit here and watch the sun sink into the hills beyond.
Gated property
Views of DTLA, Observatory, Hollywood sign, Lake Hollywood, and Ocean
Mediterranean style
Classic floor plan (3BR suites up, 1BR/1BA + powder down)
Over 4,000 sq.ft. interior space
Over 29,000 sq.ft. of land (on 2 side-by-side lots)
Beamed living room ceiling
Richly-toned hardwood floors
Custom draperies
Gourmet-style kitchen with dual sinks
Stainless-steel appliances
Outdoor, covered "family room" with wrought-iron light fixtures
Master suite with walk-in closet, and bathroom with dual sinks, soaking tub, and balcony
Guest rooms with dedicated bathrooms
Swimmer's pool with water features
Outdoor living area with fountains
Outdoor dining/entertaining on over 2,000 sq.ft. of sunny patios with views
Private amphitheater
Fenced for ultimate privacy
Close to all the area's offerings
Lot lines depicted in art work and/or photographs are approximate. Interior and exterior square footage totals are reflective of City/County records. Buyer to verify.
PREVIOUS OWNER Aldous Leonard Huxley (1894 – 1963) was the author of nearly fifty books. Huxley was best-known for his novels (among them Brave New World, set in a dystopian future); for nonfiction works, such as The Doors of Perception, in which he recalls his experiences taking psychedelic drugs; and for his wide-ranging essays. Early in his career, Huxley published short stories and poetry, and edited the literary magazine Oxford Poetry. He went on to publish travel writing, film stories, satire, and screenplays. He spent the latter part of his life in the United States, living in Los Angeles from 1937 until his death.
Huxley was a humanist and pacifist. He became interested in spiritual subjects such as parapsychology and philosophical mysticism, and in particular universalism. By the end of his life, Huxley was widely acknowledged as one of the preeminent intellectuals of his time. He was nominated for the Nobel Prize in Literature seven times. In 1962, a year before he died, Huxley was elected Companion of Literature by the Royal Society of Literature. Huxley was close friends with Remsen Bird, president of Occidental College. He spent much time at the college, which is in Eagle Rock. The college appears as "Tarzana College" in his satirical novel After Many a Summer (1939). The novel won Huxley a British literary award, the 1939 James Tait Black Memorial Prize for Fiction. Huxley also incorporated Bird into the novel, too.
During the late 1930s and early 1940s in Hollywood, Huxley earned a substantial income as a Hollywood screenwriter; Christopher Isherwood, in his autobiography My Guru and His Disciple, states that Huxley earned more than $3,000 per week (an enormous sum in those days) as a screenwriter, and that he used much of it to transport Jewish and left-wing writer and artist refugees from Hitler's Germany to America. In March 1938, his friend Anita Loos, a novelist and screenwriter, put him in touch with Metro-Goldwyn-Mayer who hired Huxley for "Madame Curie," which was originally to star Greta Garbo and be directed by George Cukor (eventually the film was completed in 1943 with a different director and cast). Huxley received screen credit for "Pride and Prejudice" (1940) and was paid for his work on a number of other films, including "Jane Eyre" (1944). in 1945, Huxley was commissioned by Walt Disney himself to write a script based on Alice's Adventures in Wonderland and the biography of the story's author, Lewis Carroll. The script was never produced.
In October 1949, Huxley wrote to George Orwell, author of the dystopian novel 1984: "Within the next generation I believe that the world's leaders will discover that infant conditioning and narco-hypnosis are more efficient, as instruments of government, than clubs and prisons, and that the lust for power can be just as completely satisfied by suggesting people into loving their servitude as by flogging them and kicking them into obedience." Huxley had deeply felt apprehensions about the future the developed world might make for itself. From these, he made some warnings in his writings and talks. In an interview conducted by Mike Wallace for "60 Minutes," Huxley outlined several major concerns: the tendency toward distinctly hierarchical social organization; the crucial importance of evaluating the use of technology in mass societies susceptible to wily persuasion; and the tendency to promote modern politicians as well-marketed commodities.
In 1960 Huxley was diagnosed with laryngeal cancer and, in the years that followed, with his health deteriorating, he wrote the Utopian novel Island, and gave lectures on "Human Potentialities" both at the University of California's San Francisco Medical Center and at the Esalen Institute.
On his deathbed, unable to speak due to his health, Huxley made a written request to his wife Laura for "LSD, 100 µg, intramuscular." She obliged with an injection at 11:20AM and a second dose an hour later; Huxley died at 69, at 5:20PM on November 22, 1963.
Media coverage of Huxley's death--as with that of the author C.S. Lewis--was overshadowed by the assassination of U.S. president John F. Kennedy on the same day. This coincidence served as the basis for Peter Kreeft's book Between Heaven and Hell: A Dialog Somewhere Beyond Death with John F. Kennedy, C.S. Lewis, & Aldous Huxley, which imagines a conversation among the three men taking place in Purgatory following their deaths.
Huxley had been a long-time friend of Russian composer Igor Stravinsky, who later dedicated his last orchestral composition to Huxley. Stravinsky began "Variations" in Santa Fé, New Mexico in 1963 and completed the composition in Hollywood in 1964. It was first performed in Chicago 1965 by the Chicago Symphony Orchestra, conducted by Robert Craft.
Also in 1965, musician Jim Morrison suggested his band name itself "The Doors," after Huxley's book, The Doors of Perception.
In 2014, a Los Angeles luxury apartment building (renting its studios for up to $3,100mo.) was named "The Huxley" after Aldous Huxley. It prided itself on the advanced technologies it offered its residents.
Last summer, the Los Angeles Times reported on a San Francisco-based book club making a pilgrimage to The Aldous Huxley House to experience readings from Brave New World on the very terrace where the author enjoyed Hollywood Hills sunsets.
Collections of Huxley's papers remain in the State where he lived and died; at the Library of the University of California, Los Angeles, and the Stanford University Libraries.

Jeff Yarbrough
Realtor & Principal
DRE# 01341959
323.854.4300
Jeff@LALuxeGroup.com
JeffYarbrough.com | My Bio

439 N. Canon Dr., Penthouse
Beverly Hills CA 90210
kw.com
Request A Showing or More Info: